5 Most Unbelievable Internet Addictions
You can get addicted to anything — it doesn't have to be your typical drugs, alcohol, or cigarettes. As a matter of fact, you can get addicted to something as simple as TV, or even food. Many people are finding they have various internet addictions. Take a look at these 5 unbelievable internet addictions that you might be suffering from, too.
The Internet Shopaholic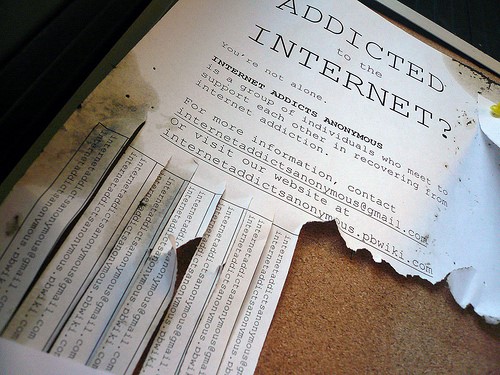 Image via
Flickr
by mandiberg According to
Orange Collar Media
, people in the United States spent one-hundred eighty-six billion dollars in online transactions in 2012. That's a lot of money. Shopping on the Internet is easy, convenient, and a great way to find a good deal because you can comparison shop. However, some people spend too much of their time shopping. If you can't go online without browsing eBay and other online shopping websites, you may have an addiction to internet shopping. This can grow into a major problem if you're not able to control your spending or you'd rather shop than spend time with your family.
The Excessive Social Media Stalker
Another internet addiction is social media. According to a 2013 study by
MapsofWorld.com
, 75 percent of internet users say they spend more time on the internet than they intended because of social media sites like Facebook and Twitter, and 50 percent say they lose sleep over it. The Internet is a great place for people to connect because of email and social media. However, it can also lead to an addiction that takes up too much time. If you spend more than a few minutes each day as a social media stalker, you may have this internet addiction.
The Workaholic
Most people nowadays have jobs that require the Internet, whether it is for accessing a server or performing simple communication. Many people are also able to work exclusively from home because the Internet gives them everything they need to get their jobs done. This creates an environment of workaholics because it's hard to leave the computer when you have such easy access to it. Bloggers are the most notorious for this internet addiction, but lots of other people have the problem, too.
The Online Gamer or Gambler
Online games are a common pastime, but many people spend too much of their time playing them. Counselor Peter Smith, said, "You can play online with people around the world, so it can be at odd times of the day — when it's 5 PM in Chicago or evening in Japan." If you can't seem to stop playing games, especially at night when you should be sleeping, or you think about them when you're not at the computer, you may have an online gaming addiction. Or, you may have a gambling problem if you play games online because you get a "high" from the risk of the games.
The Compulsive Video Viewer
Another common internet addiction is videos, whether it is a constant need to be on YouTube or a compulsive need to watch movies or TV shows on other websites. Of course, this addiction requires a high-speed internet connection, such as the options on
clearwireinternet.com/price
. If you're always watching something when you go online and it is taking up too much of your time, you may have an addiction. If you notice people in your family are spending too much time on the Internet, they might have one of these unbelievable internet addictions. And, like all addictions, they are difficult to stop. What can you do to prevent the Internet from overwhelming your life and the lives of your family?
Tags: addiction, facebook, gambling, gamer, Internet, online, online gaming, online shopping, Shopaholic, shopping, social, social media, social networks, stalker, tv, twitter, Workaholic