iPhone Cameras To Shoot In 360 Degrees!الايفون يصور بزاوية 360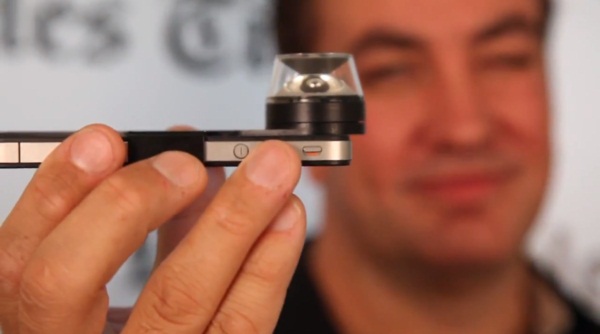 لقراءة الموضوع باللغة العربية اضغط هنا
As published on http://latimesblogs.latimes.com:
The crowd-funding website Kickstarter has given rise to a number of interesting projects since its founding in 2009. One effort in particular caught my eye a few months ago, after my father suggested I take a look: the Kogeto Dot.
So what exactly is a Dot? It's a plastic lens attachment for Apple's iPhone 4 that allows users to capture video in a 360-degree panoramic shot. Once captured, the video is processed by an app from Kogeto, the New York-based maker of the Dot, called Looker and then is fully navigable upon playback (i.e., you can move your finger around on the iPhone's touchscreen, and as the video is playing, the video moves up, down, side-to-side in response. If you're watching a Dot-shot video uploaded to Kogeto's website, you can move your mouse or trackpad to move the video in the same way.
From the Looker app, Dot users can upload their videos to the aforementioned Kogeto website as well as to Facebook and Twitter. Kogeto likes to call videos uploaded to its site Dotspots, and although the Dot is still a prototype and not yet in stores, some interesting videos have already been shot.
On Kickstarter, Kogeto had a target of raising $20,000 to help fund a fully realized Dot, which could sell for $79 in stores and online. Instead, Kogeto raised $120,514.
Tags: 360, 3d, angle, apple, cam, camera, degree, degrees, iphone, spy
Trackback from your site.