Laster Technologies' Smart Spectacles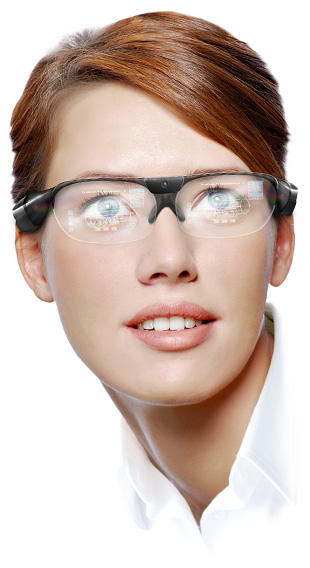 Photo: Laster Technologies
These glasses let users dispense with a computer monitor altogether.

A decade ago, tech sages predicted that many portable consumer devices would soon be integrated into the mobile phone. For once, the pundits were right: Today, of course, elements of the old PDA, MP3 player, digital camera, portable e-mail, Web browser, and camcorder now live on our smartphones.

Next in line, says a French company, are eyeglasses. When they get smart, we'll be able to cut our computers loose from monitors, so that the entire package becomes really portable. We'll also be able to project graphical information onto the world by augmenting reality, as it were.Later this year, Laster Technologies—based in the Paris suburb of Gif-sur-Yvette—says it will be releasing its first-generation 

SmartVision spectacles

, which will project VGA-resolution (or better) color images on the inside of the glasses. With a smartphone or tablet computer powering it (and connected via Wi-Fi or Bluetooth), SmartVision could, in essence, begin to put a menu bar on reality. Imagine, for instance, doing 

Minority Report

 –like information surfing without needing any fancy holographic displays or a head-up GPS interface that sits at the edge of your field of view.
Preliminary specifications

Screen definition

800 x 600 pixels

Field of view (FOV)

40° x 30°

Screen diagonal at 9 feet (2.7 m)

97,5"

Image distance (adjustable)

30 cm to 3 m

Image format

4/3 or 16/9

Optical module size (L x H x W)

45 x 19.8 x 16 mm

Wireless Data Transfer

Yes (optional)

Types of data displayed

Text, images & video clip

Colour depth

24-bit

Micro-camera

Yes
Via..
Tags: eyeglasses, glasses, laster, monitor, Screen, spectacles, technology
Trackback from your site.