The Privacy Glasses (Do It Yourself)!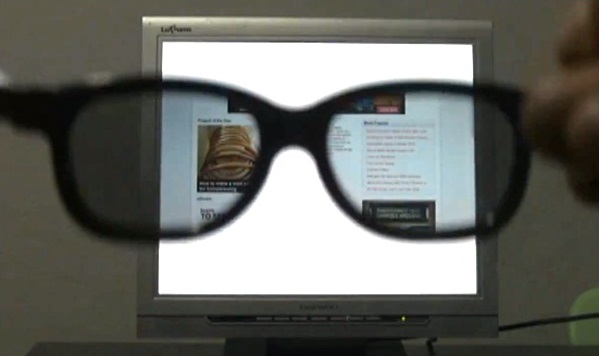 "Finally you can do something with that old LCD monitor you have in the garage. You can turn it into a privacy monitor! It looks all white to everybody except you, because you are wearing "magic" glasses! All you really 
have to
have
 is a pair of old glasses, x-acto knife or a box cutter and some solvent (paint thinner)." Learn how to make a similar one right this moment!
Steps and Source
"قام موقع instructables بشرح طريقة تستطيع من خلالها جعل محتويات شاشتك مخفية وعرضها بنظارة خاصة يمكن صناعتها في البيت…
الطريقة بسيطة فكل ما تحتاجه هو شاشة LCD ونظارة عادية وكل ماعليك القيام به هو نزع الشريط المستقطبالموجود في الشاشة ووضعه على النظارة وبذلك تختفي محتويات الشاشة ولن تظهر سوى بإستخدام النظارة الخاصة كما في الفيديو أدناه…
وهنا بدأت معي الوسوسة! ماذا سيكون جوابي لو سألني أحدهم عن تحديقي في شاشة بيضاء طوال هذا الوقت؟"
شكراً [تيدوز]
Trackback from your site.