Five Cool Gadgets Used For Spying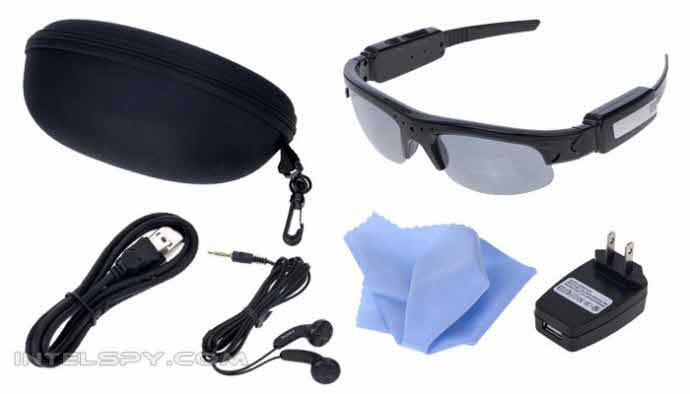 When we think of spying and gadgets, we naturally think of the James Bond and Mission Impossible movies, in these films the use of ultra high tech is common place and yet in the real world this equipment would have been only available to governments and other organisations due to the cost. But recently the cost of technology has dramatically fallen to the point where tiny pin hole video cameras can be owned by just about anyone. So for the average person in the street this means even more surveillance and the possibility of being caught on camera just as they trip over or do something else that others would think is funny! Therefore, from the world of secret government departments to the more open world of social networking and YouTube, we have found some cool gadgets that could turn just about anybody into a Jason Bourne! Sunglasses with built in video camera Who would ever suspect that the person wearing these fashionable sunglasses was actually filming all that was going around them and with the built in microphone nothing is going to escape these super shades, which can run on battery power for around three to four hours.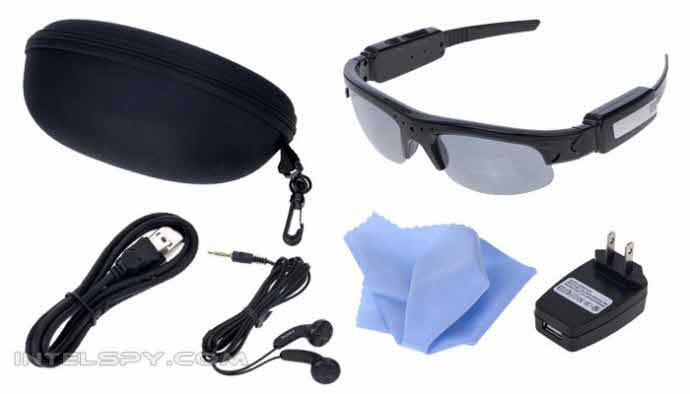 These are the features and specs for the Sunglass Shade Video Eyewear Recorder/MP3 w/ Built in 2GB Memory;
Quality Polaroid Lens from brand makers. The smallest hidden camera on shades. User friendly Micro-switch controls for easy operation. Looks like a normal and stylish sunglasses. 3 mega pixels pinhole CMOS camera for clear digital recording. Sleek and elegant design. A must have equipment highly recommended for journalist traffic police, students, and travellers. Easy connection to PC/Laptops, no drivers needed. 3-4 hours long power supply. Real time video recording; never let memorable moments get lost. Easy to store MP3 music right at your computer or laptop
Price was $89.95 the price now is $59.95 Source [Intel Spy] Button style spy camera This is a real James Bond style gadget, what appears to be a simple shirt button is in fact a powerful camera and microphone, which on a single charge can record for up to an hour. However, this clever device can be activated and deactivated with the use of the magnetic ring provided, simply swipe in front of the device to begin or stop recording.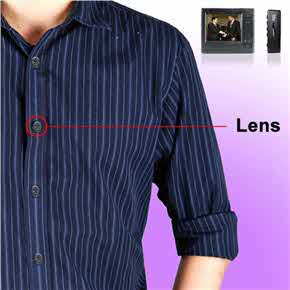 These are the features and details for the Spy Button 2GB with Magnetic Activation;
640 X 480 VGA Resolution. 2GB Internal Memory. Full 30 Frames Per Second. Dual Modes: Video & Snapshot. 1 Hour Recording Per Charge. Time/Date Stamp. Compatible PC and MAC. Magnetic Activation
Priced at $189.99 Source [USA Spy Gadgets] The Bird Feeder with hidden camera Who would ever think that this brightly coloured and highly visible bird feeder was in fact a sophisticated spying device! This is real high tech as the bird feeder comes with a built in motion and body heat sensor that activates the system from up to thirty feet away. Its powerful battery pack can run for one year on standby and provide up to twenty hours of actual filming once activated.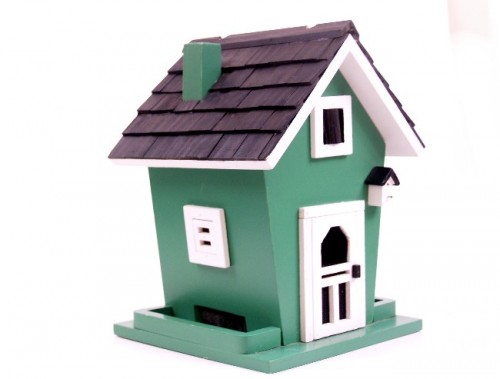 These are the details for the very interesting Bird Feeder with hidden video camera and motion detector;
With our exclusive copyrighted micro PIR motion activation system; there is virtually no battery drain while on standby, and no false alarms. As soon as "body heat" is detected, up to 30 feet away, hi resolution (640 X 480) video is recorded on a hidden SD card. Video recording continues until 1 minute after motion ceases, then unit automatically returns to standby mode.
Price was $749.99 the price now is $579 Source [Spy Gear 4U] GPS Signal Jamming Device There has been a lot of publicity recently on how certain companies and organisations are able to track individuals through GPS, for some folks this is an invasion of their privacy and with this jamming device, tracking is no longer possible. This device is ideal for use in the car etc, the cell phone signal is not affected so calls and SMS are still possible with this device switched on.
These are the features and specs for this Portable GPS signal Jammer;
Working Band: L1 system 1450 to 1600Mhz. Coverage: 0.5M to 20M. Power supply: 5V. Currency: 550mA. Build in battery inside: 3.7V. Charge time: 3 hours. Work temperature: -30~60. Relative humidity: 5~95. Accessories: Car Charger. Mains Charger (100-240V). Detachable Antenna
Priced at around $100 Source [Spy Gadget Shop] T Shirt with built in mini spy camera There is a saying about hiding something in plain sight, well this James Bond lookalike T Shirt is just that, it appears to be a T Shirt advertising a movie, but in actual fact there is a tiny spy camera built into the design, in fact the lens is the lens of camera in the image, who would suspect that? Press the button on the controller to take an image. The device can store up to 150 images at any one time and that is a lot of images for such a tiny device.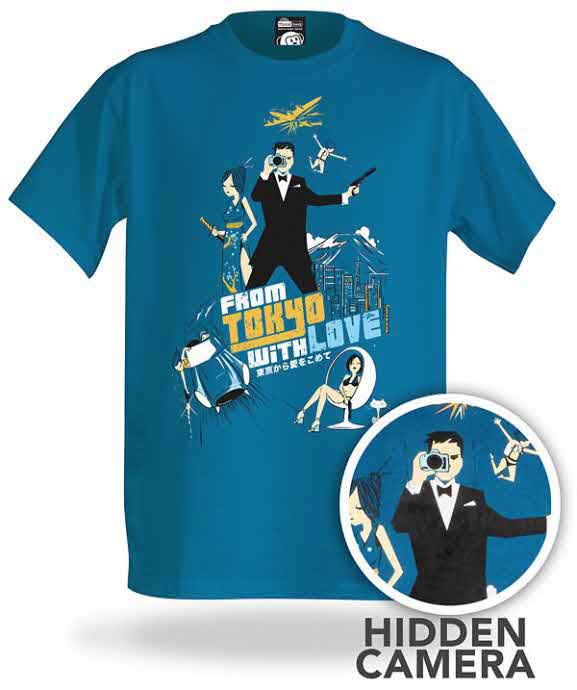 Here are the features and specs for the Electronic Spy Camera Shirt;
Stylish retro spy theme T-Shirt has a tiny colour digital camera hidden in the chest. Use the pocket based remote to shoot colour digital photos. Vibration feedback shutter lets you know when you have taken a new shot. Holds over 150 colour digital photos, 640 x 480 resolutions. Electronics are completely removable for washing. Plug in with USB to download photos. Works with any OS including Mac, Linux and Windows. Requires 3x AAA batteries (not included)
Priced at 
$39.99 on Amazon
Source
 [Coolest Gadgets] (copied from zedomax.com)
Tags: button, cam, camera, eyeglasses, hidden, record, shirt, spy
Trackback from your site.