Top Five Gadgets Good For Travellers
Posted on June 7, 2011 by David Allen
Gadgets are things that make life easier, they provide the user with a quick and easy way of doing something no matter how trivial it may seem. However, if there is one occasion where gadgets can really make a difference it is for the traveller, they often have limited space and weight restrictions, but still require some modern day comforts. I have compiled my Top Five gadgets that have been designed to make the life of the traveller easier, but at the same time must be portable enough so that they can be packed away in the luggage. New style of travel pillow On a long trip, it is inevitable that the traveller is going to either need some sleep or simply fall asleep, especially with the younger travellers amongst us! Put the pillows provided on a plane for instance often fall to the ground. However, this is not going to happen with the TravelRest as hugs the user because it attaches to the back of the seat wrapping around the user.
These are the features and details for the TravelRest fleece cover;
With its patented ergonomic shape, the TravelRest pillow attaches to any seat back, nestling against the head and neck to provide support and comfort in flight or on the road. Even without a seat back, TravelRest's versatile design provides excellent support – simply sling the tether cord over your head and shoulder… and relax. It's The Travel Pillow, Reinvented!
Priced at $26.95
Source
[Travel Rest] The Grid-IT organiser Not many people can do without their cell phone, Mp3 player and chargers while travelling, but how often have you spent time looking for something that has slipped away and hidden itself inside your bag? For the organised traveller this simply will not do and therefore some organisation is needed. Check out the Grid-IT organiser, this is flexible pad with rubberised weaved bands that will hold in place almost any gadget of size making it impossible to lose a device ever again.
These are the details for the Grid-IT organizer system;
Designed to provide endless configurations of digital devices and personal effects. Slim design and conveniently sized for your current laptop bag or travel case, lets you easily find what you need. Features rear zippered pocket for additional storage. Measures 12 X 8.125 inches.
Priced at $22
Source
[Flight 001] Philips Universal USB charger They say that this may be the only charger you will ever need and they (Whoever they are!) could be right. this is the Power2Charge Universal USB charger by Philips it is a smart looking device that comes with enough connector to fit most power sockets and it folds right down and fits into a handy little carry bag, charging has never been easier.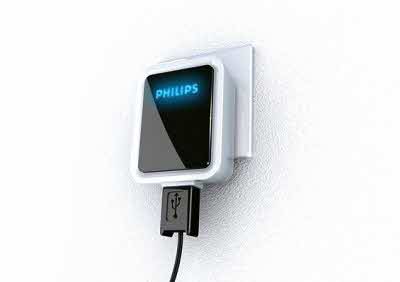 These are the details on the Power2Charge Universal USB charger;
Portable devices play important roles in our lives – for work, communication and fun. With this USB adapter, you can create a universal charging outlet at home or in the office, and forget separate chargers and cables for each device!
Priced at $25
Source
[Philips] The basic Universal Power Adapter Sometimes you just want to power up the laptop, cell phone or some other essential gadget. However, travelling around means so many different wall power sockets so how can you possible cope with these changes? A universal charger is how and this one will work in just about any country around the world.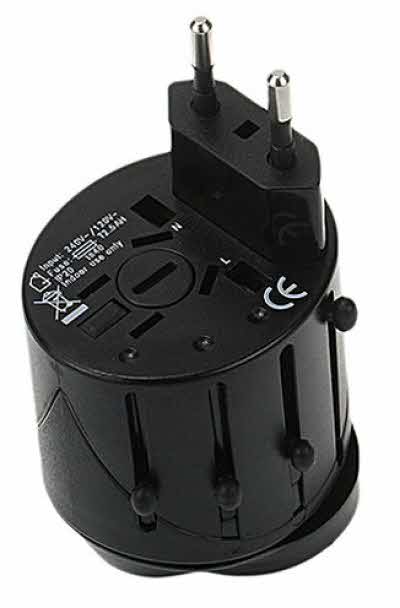 These are some of the specs for the Universal Power Adapter;
Not all plugs are created equal; The One Adapter To Rule Them All; Works in just about any country; Never be without electricity again
Priced at $19.99
Source
[Think Geek] Emergency wind up radio They class this device as an emergency radio, but of course, this could be used at time when power is limited or down. Initially this was designed to be used during earthquakes, floods and other disasters, when the power is out and the radio is the only way of listening in on the progress of the authorities and when the situation is going to get better.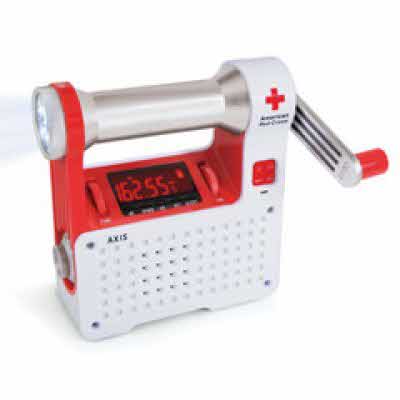 Here are the details for this handy emergency radio;
Analysts found its metal gears and 3 1/2″ long aluminium handle turned more smoothly than lesser radios with plastic gears and stubby cranks. Its digital tuner offered the clearest reception of AM, FM, and seven NOAA Weather Bands (with alerts). An LED flashlight in the handle switches to a flashing red warning beacon with a twist of a dial. It has a clock with alarm, a headphone jack, and can charge a cell phone or USB device. Weather-resistant plastic body with aluminium handle. Can also be powered by three AAA batteries. 6 1/2″ H x 6 1/2″ W x 2 1/4″ D. (1 lb.)
Priced at $69.95
Source
[Hammacher and Schlemmer]
Source
[Zedomax]
Tags: gadgets, travellers
Trackback from your site.