Samsung Galaxy S3 vs Motorola Razr Maxx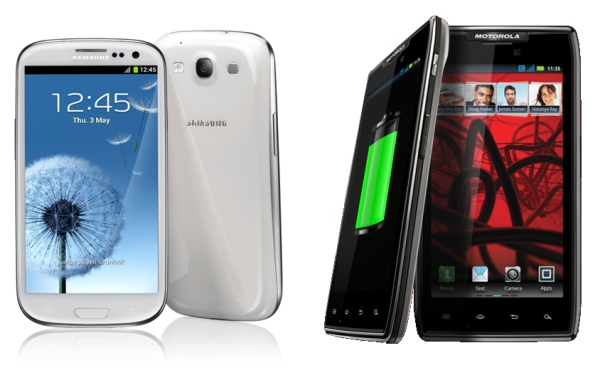 Samsung unveiled the Galaxy S3 at the start of this month and although it has yet to go on sale many are expecting it to be the biggest selling smartphone of the year and, like the earlier Galaxy S2, win a lot of awards for innovation. How does the Galaxy S3 compare to Motorola's latest flagship phone, the Razr Maxx? Although it was only released recently, the Razr Maxx draws a lot of inspiration from
2011's Razr
.
Processors
The
Galaxy S3
is the first quad core phone from Samsung and features a quad-core 1.4GHz Exynos chip and 1GB RAM, which seemingly overshadows the 1.2GHz dual core chip found on the Razr Maxx. If HTC's current One  series has taught us anything though, with the dual core One S proving to be more popular than the quad One X, it is that a lot of consumers are not too keen to rush out and buy a quad core phone. Many people consider quad core an unnecessary level of power that will merely result in reduced battery life.
Battery
And battery life is one area that the Razr Maxx excels. While most manufacturers are keen to throw in as many resource hungry features as they can in order to win customers over, battery life is one area of phone design which usually gets ignored. This results in all-singing all-dancing handheld gadgets that can only just about survive a full day's use if all of their key features are disabled. The Razr Maxx has an unprecedented 3300 mAh Lithium Ion battery which really is the unique selling point of the phone, a certainly more durable and long lasting than the 2100 mAh Lithium Ion battery found on the S3. Even though it might not be quad core, the Razr Maxx still comes with a great range of features that you would normally expect to rapidly deplete your battery life.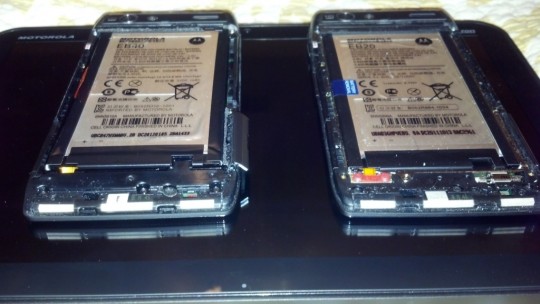 Display
The Razr Maxx is also one of the few non-Samsung phones to come with a Super AMOLED screen, which is arguably much higher quality than a standard LCD. At 4.3 inches it is not as large, and with qHD resolution not as sharp, as the 4.8 inch HD screen on the S3. Yet, the Razr Maxx's screen is in the same league as the Galaxy S2's, which was a phenomenally successful phone, while larger handsets such as the S3 may be off-putting for a great number of potential buyers.
Android
The Galaxy S3 does benefit from Android Ice Cream Sandwich, while the Razr Maxx is, for now, limited to Gingerbread. Samsung has spent a lot of time adding in its own excellent software features to the S3, including S-Beam, S-Voice and gesture controls, and there is no guarantee that the Razr Maxx will see an ICS update any time soon.
Camera
The Galaxy S3 performs better in the camera department too. Although both phones feature 8 megapixel cameras with 1080p video, the S3 comes with new social tagging features and perhaps the finest facial recognition found on any smartphone. The S3 also features a slightly better camera. In terms of the smartphone market just a few months ago, the Razr Maxx would easily have outperformed its competition. With quad core
launching at Mobile World Congress
and now Samsung launching the S3 with all its unexpected eye tracking and gesture control features, the Razr Maxx may feel a little bit less impressive to some. It is still an excellent phone although those who need the latest and greatest technology may be seen turning their noses up to it. The saving grace of the Razr Maxx is its unrivalled battery performance, which for a great deal of people is far more important than a list of impressive but unnecessary gimmicks. The Razr Maxx also benefits from being
much cheaper
than the Galaxy S3, which for many people will be a big deciding factor in which phone to pick. For most people, the extra features on a phone or great to play around with for the first month but after extended ownership the phone is mainly used for its primary purpose: calls, text and web browsing. After the initial honeymoon period is over it things like battery life which really make an impression on people and influences their choice of whether or not to stick with a certain phone brand. On a side note, the Galaxy S3 has been criticised for its physical design which many feel is quite ugly. In this respect the Razr Maxx may have the upper hand, with a more appealing appearance reminiscent of the Galaxy S2.
Tags: android, Motorola Razr Maxx, Samsung Galaxy S3
Trackback from your site.