Simroid Dental Training Humanoid, The Humanoid Robot Patient!
Simroid is a dental training robot being developed by the Nippon Dental University Hospital and dental equipment maker Morita Manufacturing. Based on a 
prototype first presented in 2007
, this robot is much more advanced, and there are plans to release the robot commercially.
This robot patient is manufactured by Kokoro, who also make the Actroid line of lifelike humanoid robots. It has been developed as a training tool to improve students patient communication skills by emphasizing attitude rather than technique. "Compared with pre-robot simulators, which were just expressionless metal phantoms, students feel much more tension with SIMROID, whether they're drilling its teeth or talking to it. People say this robot is very realistic."
"The first improvement we have made is that the robot now has speech recognition. So when you speak to it, it moves in response. There are also sensors in and around the mouth. So, for example, if something hurts or feels unpleasant, the robot can react. Another improvement, as you can see, is the skin. A robot dental patient has to "open wide," so if the skin is made of silicone, it can tear. So we've used a different material, which doesn't tear even if it's stretched a lot or makes contact with dental implements."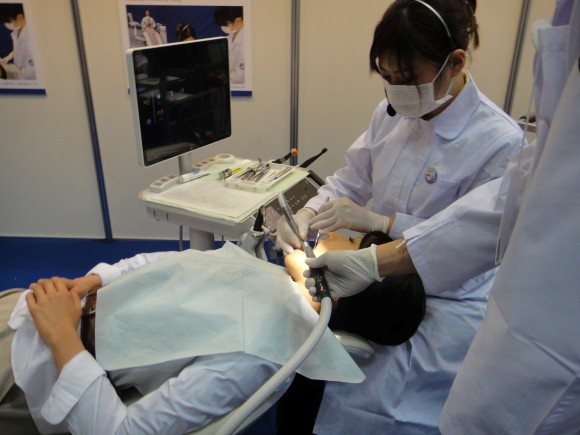 "During dental treatment, the dentists elbow can come in contact with the patients breast. If this happens the patient can react and show discomfort." Here's a must-see video: One other feature of this simulator is a post-treatment rating system. While students are practicing, two cameras record how well they diagnose problems and interact with the patient. The load on the robot patient is fed back to a monitor, helping students improve their performance over time.
"Of course, the evaluation can also be done as a time series, to assess strengths and weaknesses compared with other students, for example. And even if the instructor isn't present, the recording can be evaluated by the instructor afterwards, so students can get feedback about their approach."
"Actually, this robot speaks English as well as Japanese. We have lots of opportunities to treat patients from other countries, so we're creating a system that lets us train using foreign languages. We're also working on the tooth sensors in the mouth, to make them more sensitive, like actual teeth. So I think this system is basically 99% complete, with just 1% more development to be done. Well, I think things can always be 1% better, so we'd like to keep enhancing this robot." Related Links : – 
YouTube
– 
International Robot Exhibition 2011
Source
[diginfo.tv]
Tags: actroid, android, cavity, dental, dentist, doctor, humanoid, real, robot, teeth, training
Trackback from your site.